At Ease Wellness Center, we take great pride in providing the finest chiropractic wellness care to our patients. Below is a sampling of the different services and modalities we offer in our Chicago office.
---
Chiropractic
When the back of a janitor was adjusted by D.D. Palmer in Davenport, Iowa in 1895 and his hearing was restored there was this original idea that perhaps a cure for deafness was discovered. The idea of adjusting a vertebrae in the spine to cure a problem in the body was an original way some chiropractors originally practiced and some to this day hold out that adjusting only the first vertebrae, the Atlas, is the only way to go. At our center we hold to a more practical application of adjusting the joints of the body by hand. We hold that chiropractic is only a renaming of a much older practice called "bone setting". There is evidence for manual manipulation on the walls of ancient Egyptian caves, the Aborigines of Australia and even Hippocrates in 400B.C. the father of the quote, "Physicians should first do no harm" was trying to adjust people by having them suspend upside down(precursor to the Inversion Table).
As a school of healing, chiropractic is defined as the diagnosis and treatment of human ailments without the use of drugs or surgery. It includes, but is not limited to the manipulation of the spine and other joints to restore or maintain proper alignment. Keeping joints aligned properly preserves the structure of the body and reduces the severity of arthritis, inflammation and pain often associated with aging, sedentary lifestyle or a physically demanding profession.
Chiropractors align the vertebrae of the spine and the joints of the body with chiropractic adjustments. Our center provides two methods of being adjusted...by hand manually or by a machine. This second choice allows anyone squeamish about being adjusted by hand a second choice that will put any fears of being "cracked" at ease simply by utilizing an instrument to adjust the spine and joints gently, safely, precisely, and effectively. Recently one of our clients won first place in a Tri- Athlon and today's athletes will all tell you to visit a chiropractor regularly if you want to perform at your greatest capacity.
---
Manual Therapy
Neuromuscular Re-Education
Massage Therapy
Massage therapy offers a natural conservative treatment approach that relieves musculoskeletal pain for many patients. The benefits of massage therapy may include increasing blood circulation, reducing swelling, relaxing muscles, relieving muscle pain and spasms, and aid in recovery and range of motion.
Our Center offers several types of massage therapy/bodywork. Often several techniques are blended together to provide the perfect custom therapy your body needs.
Deep tissue / Myofascial release is needed when tight connective tissue has formed from poor posture, old injury or hard physical work.
Cross Fiber / Trigger point is excellent for healing damaged muscle tissue from old injuries or repetitive use activities like running, weight lifting or typing.
Pregnancy massage is also offered for the relief of fatigue, back ache and the related stress of pregnancy.
Ashiatsu is a centuries old Asian technique that involves the therapist using their feet to provide deep healing compression to relieve stubborn muscle aches in a non-painful way. This technique is the most frequently requested.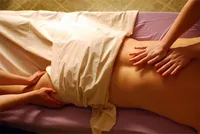 Two Therapist Massage: How do you get twice the bodywork in the same amount of time? Two therapists working harmoniously together provide an unforgettable experience. Warning: this method will forever spoil you.
---
Therapeutic Exercise
We teach our patients special "blueprint" exercises designed just for them to help strengthen and correct their own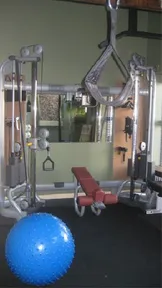 unique problem. These exercises can be performed in the comfort of your own home and can improve the effectiveness of your spinal correction by as much as 30-40%. In addition to skeletal misalignment, muscles and connective tissues can be out of place or strained by improper alignment and use. Specific exercises and stretches can help your body stay in balance and in health .
The unique difference we offer anyone signing up for personal training sessions is the initial evaluation and supervision by a doctor. The doctor will perform a muscle balance, strength evaluation, and diet evaluation in order to custom design a workout / training program that will quickly help achieve your goals.
Increase Strength
Increase Flexibility
Increase Tone
Lose Weight / Body Fat
---

Detoxification and Lifestyle Advice
We often find it helpful to "coach" our patients on certain activities they should avoid or do differently to avoid aggravating their particular health challenge. Our goal is to help every patient achieve a fulfilling and happy lifestyle full of the activities they enjoy most. We recognize that each our patient is a whole person, and help them reach true health and wellness is a collaborate effort between our professionals and our patients.
Each day we come in contact with 80,000 human-made chemicals. They come to us in food, beverages, medication, personal products applied to the skin or hair and the list goes on and on. All those environmental chemicals contribute to the body's toxic load. Toxic overload can lead to degenerative disease, pain, inflammation, premature aging and weight gain. For effective natural immunity, wellness, the body needs to reach a balance between absorption of nutrients and excretion of wastes and toxins. Our center has created a very thorough detoxification program named Fresh Start.
Fresh Start consists of four sessions over a month which includes:
Medication review
Prescribed foods, herbs, and supplements
Recommendations to minimize toxic exposure
Try Fresh Start and experience:
Increased:
Energy
Vitality
Metabolism
Restful Sleep
Sense of Well Being
Knowledge about toxins
Decreased:
Fatigue
Sick Symptoms
Weight
Insomnia
Pain / Inflammation
Exposure to avoidable toxins
---
Nutritional Counseling and Diet Coaching
We provide specific recommendations on nutritional supplements and healthy food choices to enhance our patient´s return to optimal health. Do you know which supplements and vitamins are good for you? Dr. Christopher Evans can provide a structured nutritional program based on your individual needs and perform a PH balance evaluation.
---